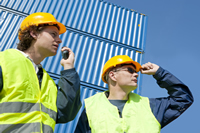 Hazard Identification & Risk Assessment Course :
Duration:
Two Days
Course Overview:
The Hazard Identification & Risk Assessments are the cornerstone of any Health & Safety Management System; this course provides a robust, sensitive and simple method on how to identify hazards, assess risks and consequently how to mitigate them.
Course Outline:
Aims and objectives
Definitions of Hazard and Risk.
Incident and Accident Ratios.
Identifying the hazards.
Principles and Practice of Risk Assessment.
Criteria for a 'Suitable and Sufficient' risk assessment.
Principles of Controls.
Documentation, reporting and the importance of record keeping.
Practical on-site risk assessment.
Target Audience:
The course is for all level of Safety Practitioners and line managers / supervisors / team leaders who are responsible to conduct risk assessments on their workplaces.
Competencies Gained and Course Outcome:
The ability to conduct risk assessment.
The ability of identifying the hazards.
The ability of evaluating the risk arising from the hazards.
The ability of prioritizing risks.
The ability to establish hierarchal mitigation measures in order to minimize the risks to an acceptable level.
The ability to record and document the assessments.
The ability to prioritize actions.